Seco Valley Ranch
Trophy Whitetail Deer & Feral Hogs
Real Hunting • Fair Chase
The Seco Valley Ranch consists of 1883 low-fenced acres in the Hill Country of Medina County, located 8 miles southwest of Tarpley, Texas. The terrain varies from rough and brushy limestone hills to open pasture broken by live oak motts with plenty of underbrush. The ranch is located on the Balcones Escarpment where the Edwards Plateau oak and juniper savanna, meets the South Texas Brush Country. Vegetation is a mix of species common to the two areas. Several wet-weather creeks run through the property and we provide wildlife watering sites spaced through eight pastures.
The ranch hunting is leased for the next five years to a group of dedicated hunters interested in improving the deer herd over a several year period. To enable true trophy hunting in the future, hunters in this group have agreed to forego trophy hunting for a few years in favor of management hunts. They enjoy each-other's company and working together. Our current group will have first right of refusal to renew the lease in 2020.
Our Managed Lands Deer Permit (MLDP) is designed for eight hunters. The MLDP Whitetail Deer Hunting Season extends from Oct. 1-- Feb. 28/29 each year. The rate is $24,000 per year. The purpose of a MLDP is to manage cull bucks and doe over-population. It is not intended for an extended number of weekends to bag a trophy. This lease is not for the recreational hunting of hogs and no hunter is an exception to the management requirements of the MLDP. Bow and rifle hunting of deer will be allowed so long as the number of animals specified in the MLDP are bagged by end of season. The lease requires hunters to follow the requirements of our MLDP, and maintain the feeders and blinds we provide. This includes all paying hunters participating together in workdays to repair and maintain blinds and feeders, and we hope encourage communication and cooperation between hunters. We need a group of hunters that want to hunt together, enjoy the camaraderie of hunters' weekends and share evenings comparing the quality and numbers of animals they saw and strategizing management. We want to make it clear this is a deer-hunting lease. Hog hunting is only permissible in the three pastures north and west of our central water-lot due to our need to maintain a healthy, gentle population of hogs for our wild pork business. No trapping, varmint or predator hunting is allowed; no spotlighting and no hunting of game birds or fur-bearing animals are allowed. Hunters are allowed to construct new blinds and set up additional feeders.

All hunters must be eighteen years of age or older or be under the supervision of a parent/guardian. Hunters have use of our lodge for the months of October through February. They may leave all-terrain vehicles on the property during that time. Hunters are responsible for filling deer feeders and battery maintenance. We provide 11 hunting blinds and feeders and there are 10 watering facilities for wildlife. We are hoping for a long-term relationship with the same group of hunters that will take an interest in culling and selecting for improved trophy quality over several years. Hunters must be experienced, responsible with firearms and capable of properly aging deer. If you would like to place your hunting group on a waiting list for consideration in 2020, please send an email to Don Davis
.
Our cabin will comfortably sleep up to seven persons in separate beds on a shared air-conditioned sleeping porch. Our Hunting Philosophy
---
These photos were taken in previous years when we offered package hunts. These bucks represent the quality of breeding animal we had. With good management we are seeing improved quality.
Meals are not included.
Mac & Ernie's Roadside Eatery, a popular local gathering place in Tarpley, offers the finest in casual dining preparing lunch from 11 a.m. - 4 p.m. Fridays and Saturdays and supper on those same days from 5 p.m. - 9 p.m., Sunday brunch from 10 a.m. - noon and lunch from noon - 2 p.m.. Visit their website http://www.macandernies.com/ to see what's on this week's menu. Watch the youtube episode of Diners, Drive-ins and Dives (recorded before she moved to her larger location across the creek at 11804 FM 470).
There are other cafés in Utopia, Bandera and Hondo. We recomend Mullberry's Wine Bar in Bandera, and for a fine dining experience The Laurel Tree, south of Utopia (reservatins required).
Williams Creek Depot and Party Pavillion in Tarpley offers live music Friday and Saturday nights and serves burgers and fried snack/bar food.
Direct lease inquiries to: Don Davis

Phone: (830) 562-2333, FAX: (830) 562-3652
E-mail: dwd@dwdlonghorns.com
Please review our Hold Harmless and Lease Agreement we require all hunters to sign.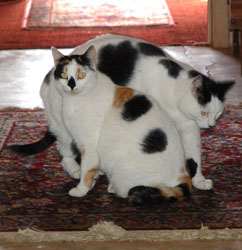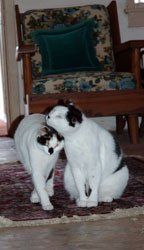 Big Boy & Smudge
Our Resident Mouse Patrol
Guest lodging is a masonry cabin with two indoor fireplaces, central heat/ac, satellite TV, full kitchen, game cooler, two semi-private bunkhouse-style bedrooms with three twin beds each plus a futon couch in the great-room, and two baths with showers (one indoors, one make-shift addition off the back of the cabin). The location is secluded and quiet, conducive to relaxation and a quality hunting experience. Non-hunting attractions include great bird watching and Texas Longhorn cattle. We discourage guests from bringing out their dogs due to the number of working cats employed at the headquarters and the proximity of livestock handling facilities to the cabin.
| | | |
| --- | --- | --- |
| | | |
---